Case Studies
Below is an example of a PPE vending machine created to dispense personal protection equipment for the mining and construction industry.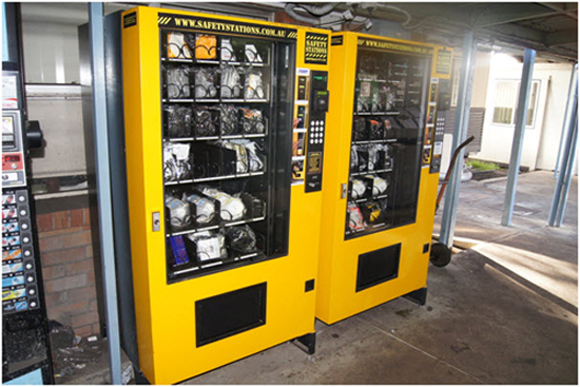 Product Options
The client selected personal protection equipment to suit the requirements of employees working in close proximity to the station. Products included:
Gloves – both cut-resistant and nitrile types were made available for the different types of work undertaken onsite
Safety glasses – a range of brands and lens types allowed users to choose their preferred style
Dust masks – disposable options from a range of manufacturers
Ear bands, earmuffs and helmet muffs – offering hearing protection for differing headwear requirements
Sweat bands – a practical option for labour-intensive workplaces
Simple, Smart Safety Machines
The safety machine's panel interface works the same as a standard vending machine, with all products clearly labelled on shelves. In this case, each piece of personal production equipment is wrapped as desired by the client, however in most cases products require no special packaging.
Items of differing size pose no problem – as can be seen in the picture, safety machine spirals can be configured to suit both smaller, delicate items like glasses and bulky items like helmet muffs.
These tray configurations can be altered over the life of the project as needed. The inventory control system can also help identify inefficient distribution of products across machines and altered usage patterns, allowing you to respond quickly to changes in demand.
Diverse Industry Applications
Safety Stations have been supplied to a diverse range of clients and for a range of applications, including to Rio Tinto and Xstrata mines and the M80 upgrade project in Victoria.
Each PPE vending machine is customised to suit client requirements. We can even produce stations in different configurations for different locations around the one site.
For more information on a customised PPE vending machine for your work site, contact us today .